TDR Level Transmitter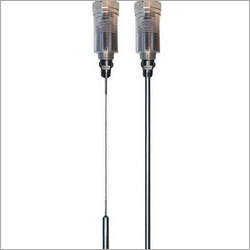 TDR Level Transmitter
Product Description
TDR Level Transmitter
With our years of intensive experience and sound knowledge in this industry, our company has been able to mark its strong presence in the market as one of the excellent manufacturers & suppliers of TDR Level Transmitter. These transmitters are broadly used during continuous level measurement of powdery & granular bulk solids such as plastic granulate and liquids like oil & water. Due to features such as robust construction, high accuracy and superior strength, TDR Level Transmitter is demanded among our clients.
Further Details:

Supplier & Manufacturer of TDR Level Transmitter. Our product range also comprises of Level Transmitter, Aquafork Point Level Switch For Liquids and Radar Level Transmitter For Liquid.

Application
Probes are available with threaded process connections from 1/2".

Rope probes, above all for measurement, Measuring range up to 35 m
Rod probes, above all for liquids, measuring range up to 7m
The following interfaces are available for system Integration:

HART (standard),
RS485 or RS232 (Modbus RTU)
4-20mA/20-4mA output
Accuracy Grade: +0.1%+0.25%
Resolution: +3mm
Environment temperature: -40~140 oF(-40~60oC)
Operating temperature: -40~482 oF(-40~60oC))
Power is 16~38VDC 9W
Two wire
Frequency mode is pulse
Material of enclosure is standard aluminium or stainless steel as 316SS
Material of antenna is stainless steel as 316SS
Calibration can made through the control panel or software in the measurement range
There is FCC15 low power communicator; FM explosion proof, ULCAN/CSA
Grade of Protection is NEMA4X (IP65)
Installation

General installation instructions

Probe selection

Normally, rope probes should be used for bulk solids; rod probes are only suitable for short measuring ranges
Normally use rod probes for liquids. Rope probes are used in liquids for measuring ranges > 4m and with restricted ceiling clearance which does not allow the installation of rigid probes.
In the case of large silos, the lateral pressure on the rope can be so high that a rope with plastic jacketing must be used. We recommend PA-coated ropes be used for cereal products wheat, flour etc...
Installation in the nozzle stub as DN200/8" and DN250/10"

If the sonsor is installed in the stub with dia> 200mm/8", the echo produced by stub inside wall would cause measurement error under low dielectric constant condition. Therefore, a special flange with horn interface should be provided for the installation. Avoid installing in the stub with dia, 250/10". If bend happens to the rope probe, we recommend selecting an extension rod to fix the middle ring.

Optimization options
Interference echo suppression: Measurement can be optimized by electronically tuning out Interference echoes.
Mounting location

Do not mount rod or rope probes in the feed inlet or outlet
Mount rod and rope probes away from the bin wall Mount at such a distance as 1/4 of bin's diameter
The minimum distance from bin wall to rod or rope probes should be more than 50cm
Distance of obstacle in the bin from the rod and rope probes shoule be >300mm
When installing rod and rope probes in plastic containers, keep the probe away from container wall in the whole measuring process, when installed in a metallic container, don't install the sensor at the center if the container.
Minimum distance of probe end to the container floor is around 30mm
When installing outdoors, it is recommended that you use a protective cover (1) see "Accessories" on
If container's bottom shape is conical, the sensor can be installed in the top center of the container. The below Figure is the mouting of radar with rod probe, mainly for liquid level measurement.



Trade Information
Cheque, Telegraphic Transfer (T/T)

200 Per Month
Contact us for information regarding our sample policy

Asia, Australia, Central America, North America, South America, Eastern Europe, Western Europe, Middle East, Africa
Contact Us
Shed No. 7, Nanekar Industry Building, Survey No. 79/2, Dangat Industrial Estate, Shivane, Pune, Maharashtra, 411023, India
Phone :+918045802520